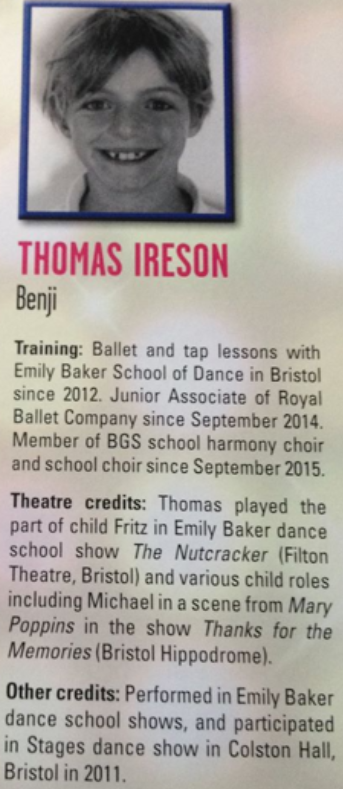 Thomas Ireson stars in a West End Musical… with Jason Donovan! Thomas has been training with EBD since the age of 6. He's now 10, and in the last four years he's achieved some pretty remarkable feats for such a young dancer. In 2012, he performed alongside Miss Emily at the Bristol Hippodrome as part of a Centenary celebration – 'Thanks for the memories'. In 2014, he was selected by audition to join the Royal Ballet School as a Junior Associate, an excellent opportunity for Thomas to further his classical training and he now trains in Radstock with the J.A's, for 2 1/2 hours every Saturday! Earlier this year Thomas took another leap in the world of dance, performing alongside Jason Donovan in the touring production of the hit West End Musical: Priscilla Queen of Desert! The musical tells the story of three performers who leave the bright lights of Sydney to travel across the wild Australian desert. It's just them, their lavender mini van, called Priscilla Queen of the Desert and the open road. The lead singer in the group, Tick (played by Jason Donovan) has an 8 year old son living in Alice Springs, who he's never met! The son's called Benji, and he's played by our Thomas! Thomas only had one opportunity to wow the shows producers in his audition. He, along with another RAD Associate were picked to play Benji in the Cardiff and Bristol leg of the tour. And what with tight schedules and an A-list cast they only had three rehearsals before performance
time (for one rehearsal Thomas was flown up to Glasgow!). Thomas was lucky enough to perform at the Millennium Centre in Cardiff, in front of an audience of 1000+ people. In his own words, the experience was "really cool". And the theatre felt "big and grand". At first Thomas felt understandably nervous, and the lights were so bright he couldn't even see the audience! But he said that after a bit, he just got into it and forgot about the hundreds of people watching him. And by the finale, in which Thomas is jumping around in a kangaroo suit (!), he was having a whale of a time. So what was it like working with Jason Donovan? Thomas can confirm that Jason was no diva and was nice and supportive to the guys.
Having had his first taste of the limelight, where does Thomas see himself next? Well, he's just taking things in his stride and will see what comes along. Acting, dancing, singing Thomas loves it all. We're super proud of Thomas here at EBD and can't wait to see what his future brings. Thomas took his Grade 2 Ballet Exam this term and has been working hard towards this.